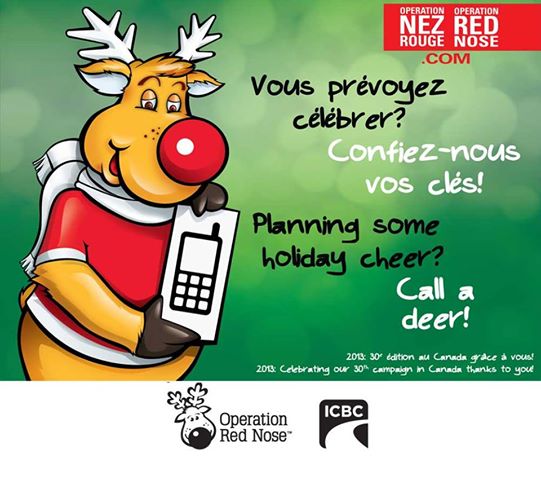 For the past 4 years, I've been interested in helping Operation Red Nose.  The Operation is a meaningful program which, over the holidays, drives people and their vehicles home if they have had too much to drink.  Finally, this year or should I say last year, I took the plunge and the night was phenomenal.
My friend, Greg Garrison is also known as Rudy on the Red Nose Operation night as he is the area's official mascot wearer.  Greg was also one of my partners for the evening and as you can imagine, the night was so much fun. The mascot's team started the evening by increasing awareness and making sure that everyone had our local number: 778-866-6673.  We headed to the Tri-Cities key locations such as Sammy J Peppers Grill and Bar, the Gillnetter Pub, the Cat & Fiddle and Samz Pub.  After 11:30pm, the calls started pouring in and we were called back to base to help drive our patrons home.  This brought to a close the end of the first part of this unique experience.  One could think that the fun, entertaining part of the evening was over but I would challenge that.
We drove some amazing people home who were not only wise to use the Operation Red Nose program but who were also interested in learning more and perhaps even taking part in future year's operations. Our team, #24, contributed nicely to the night's fundraising with an average ride donation of $43.  The night raised $4000 which at the time was the second busiest night in the Operation Red Nose Tri Cities, Burnaby and New West history with a total of 146 rides.
December 14 2013, was also extremely important to us as it was a tribute night to ICBC's Gord Couling who passed away in fall 2013.  The City of Burnaby, the Burnaby RCMP and their community police stations were out in droves and 34 of the volunteers that night were from Burnaby alone.  The evening was made a memorable one through their help, input and dedication.
If you are interested in participating in 2014, feel free to contact Malcolm Kennedy at malcolm.laptop@shaw.ca or Greg Garrison or Chris Wilson, all of whom spend countless hours working in preparing for the campaign.  Additionally, look at the Operation Red Nose facebook page at www.facebook.com/ORNTriCities where updates can be found and questions can be asked.  For even more information about the Operation Red Nose Program visit www.operationnezrouge.com.
Bravo again and congratulations on the 30th annual campaign wonderful achievements and see you next year.