Working in the events industry, I am privileged to enjoy many different types of evenings from the social and business dinners to charity and fundraising functions or musical and theatrical performances, educational seminars and sports tournaments. Everyone has their favourite event but mine is attending our community Gala events.  These evenings are always social occasions with amazing entertainment and professional performances, whether it be for one of our local charities such as the evening of caring, treasures of Christmas or to honour community achievements.
The Tri-Cities Chamber of Commerce Gala announced the winners of the 13th Annual Business Excellence Awards on Saturday 1 February 2014.  The evening was an absolute delight, filled with fine food from the newly branded Hard Rock Casino Vancouver, tasty bubbles, blackjack tables, amazing prizes and entertaining music.  The event couldn't have been better orchestrated.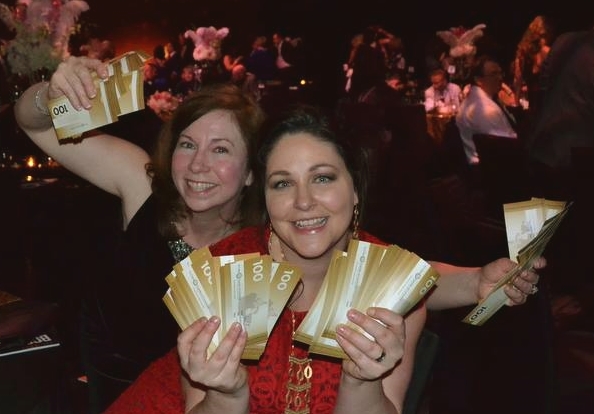 The Chamber Gala is a very special evening and one which is close to my heart as I proudly organized it a few years ago and instituted the Blackjack table with the "Chamber Bucks".  I was thrilled this year to see that the game was continuing to delight and that the use of "Chamber Bucks" to distribute outstanding prizes throughout the night had lost none of its thrill.  I was on the edge of my seat in anticipation of one or two of the prizes and although they did not find homes with me, I was not disappointed with my spoils.

The Gala itself remains unchanged apart from the fact that the evening has become more and more popular. At least 400 people attended and the Hard Rock Casino Theatre was vibrantly full, not only at the business awards announcement. At 11:00 pm, the dining room emptied as everyone spilled onto the the dance floor which was unsurprising as the newest addition to this marvellous evening, OneSide, had an unbelievable impact. This Vancouver-based six-piece group was unknown to many of us but considering our response to their performance, I wouldn't be surprised to see them again at next year's Gala.
Kudos to the Tri-Cities Chamber of Commerce for another successful Gala and I look forward to the next one as I plot my next "Chamber Bucks" strategy.
Event pictures can be found here.