Marking St Patrick's day has become a ritual in my family. After spending a lovely afternoon at the Dublin Castle in New Westminster, enjoying a traditional Guinness and Irish pie, I thought to share the Irish Coffee recipe I'll be using tomorrow for St Patrick's Day itself.
Most of us could agree that the Irish could not have had a better idea than combining robust Irish whiskey with strong, black coffee. This perfect end-of-the-meal drink can easily substitute a dessert and would be a perfect addition to your St Patrick's day meal.
Ingredients:
2 tea spoons of brown sugar 

150 ml of strong and Italian roast french press coffee

45 ml or 1 shot of Jameson Irish Whiskey

30ml – 60 ml lightly whipped double cream

a cinnamon stick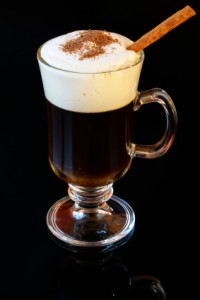 Step 1: Warm a clear, 250 ml glass by adding hot water to the glass and throwing it out.  In our family we traditionally use a large wine glass.
Step 2: Add 2 teaspoons of brown sugar.
Step 3: Fill your cup/wine glass to the halfway mark with your freshly brewed coffee. My recommendation is always to make a french press with Italian roasted beans, so that your Irish Coffee has a dark color and strong flavor.
Step 4: Add one shot of Jameson Irish whiskey – because the best Irish coffees are made with Irish whiskey.
Step 5: Add a little more hot coffee after you added the shot of whiskey. This will keep the coffee at the right temperature after adding the cooler whisky.
Step 6: To get the cream to sit on top of your coffee, use heavy cream and shake it up a little so it thickens slighly. Turn a tablespoon upside down and place the tip of it against the side of the glass on the furtherest side.  Gently and slowly pour cream over the back of the spoon so that it slides down the edge of the glass. (about 30 to 60 ml of cream).
Step 7: Add a cinnamon stick
                                                                    Et voilà – here is a traditional, delicious and flavorful Irish Coffee.
                                                                    Can't wait for tomorrow night!